01.08.2017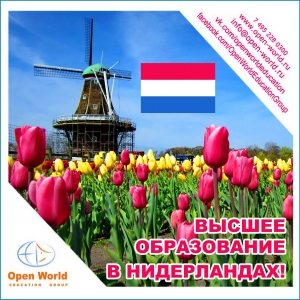 Open World Education Group starts enrollment process for Spring and Fall 2018 intakes at Dutch Universities.
We will help you to choose the right program of study and university, to register for the IELTS / iBT TOEFL exam and to receive confirmation of your enrollment from the university.
There are 8 universities from the Netherlands in the Top 100 universities in the World according to the Times Higher Education Ranking.
The most popular areas of study are: Business Administration, Finance and Economics, Law, Engineering, Agriculture, Art, Design, etc.
Open World Education Group cooperates with many Dutch universities:
University of Amsterdam, University of Groningen, Stenden University, HAN University, Wittenborg University, Hanze Universit, Twente University, Nyenrode Business University and other universities, as well as with Nuffic Neso Russia https://www.nesorussia.org, which provides information about training programs in the Netherlands and available scholarships, organizes seminars and meetings with representatives of Dutch educational institutions.
To learn more about education in the Netherlands and available scholarships, please contact the Open World Education Group office at: Vetoshny per., 5, office 202 (metro Teatralnaya, Revolution Square, Okhotny Ryad) or contact us at tel. +7 495 228 0300, work@open-world.ru