01.11 — 03.11.2020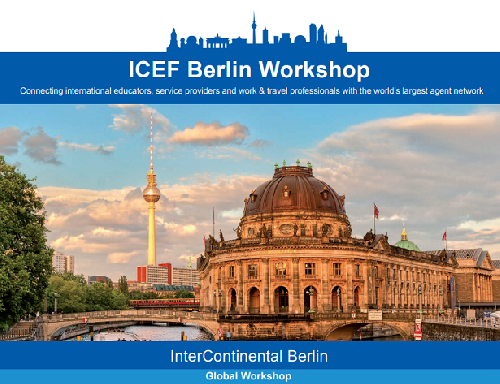 ICEF Berlin Workshop will be held from November 1 to 3, 2020 at the InterContinental Hotel in the capital of Germany - Berlin.
What are ICEF Events?
ICEF Events are the leading B2B networking conferences for the international education sector.
Our events facilitate outstanding student experiences, helping education institutions and high-quality student recruitment agents to develop strong partnerships. Spread over two or three days in convenient locations around the world, they combine dedicated meeting sessions, thought leadership presentations, and informal networking spaces.
Who attends ICEF Events?
ICEF Events bring together professionals from all sides of the international education industry. Everyone who attends has a genuine interest in building new partnerships and strengthening existing connections.
Education Agents
We are proud to host carefully-vetted international student recruitment agencies, who represent the most qualified and trusted professionals within their territories, and who have demonstrated a consistent track record of successful student placement. The education agents who are chosen to attend our events are frequently able to help education providers reach new prospective students and expand awareness of their study programmes.
Educational Institutions
Education providers, including universities, colleges and schools – who represent the final destination for international students – come to ICEF Events because they trust us to help them meet high-quality new partners to promote themselves to new would-be students.
Other organisations
Alongside our study abroad agents and educational institutions, we also welcome other organisations which enhance the international student experience by offering products or services relevant to our industry. These include student accommodation providers, insurance & financial service companies, edtech and software partners, purveyors of logistics and supplies, training, testing and accreditation bodies, as well as associations, cultural institutions and government bodies from all over the world.
Why attend an ICEF Event?
Our education fairs are a cost-effective and time-efficient solution to help you build and maintain the global relationships you need to thrive in the international student mobility sector. We bring together key decision makers from across international education, to give you an unmatched opportunity to meet new business partners, refresh existing connections, build your brand, and learn about the issues impacting our industry today.
Open World Education Group - participant of ICEF educational conferences around the world! Information about ICEF workshops: https://www.icef.com/about-icef-events