12.07.2018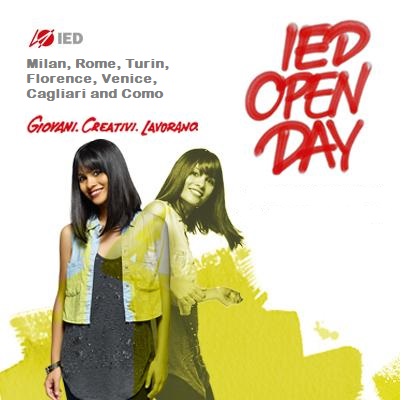 IED is glad to welcome students from all over the world on Thursday, July 12th. Participants will have the chance to visit IED campuses in Milan, Rome, Turin, Florence, Venice, Cagliari and Como!
What a great opportunity to learn more about Undergraduate, Master, Summer, Semester and Year Abroad courses in the fields of Design, Fashion, Visual Arts and Communication.
As the Academic Year 18/19 is approaching, IED Open Day is a chance to meet and speak with faculty members to discover how IED can fast-track your career and find out what life on campus is really like.
Take a tour of the Campus: a glance behind the scenes of IED student life.
Attend an orientation session that will provide you with all the information concerning IED courses, admissions, fees, accommodation, facilities and services.
Explore IED projects in the permanent exhibition, take part in open lessons and workshops.
Place: IED Milan, Via Amatore Sciesa 4, 20135; via Bezzecca, 5; IED Florence, via Maurizio Bufalini 6/r; IED Venice, Palazzo Franchetti, Campo Santo Stefano, San Marco; IED Cagliari, viale Trento, 39; IED Rome, via Alcamo, 11; IED Como, via Petrarca, 9; IED Turin, via San Quintino, 39.
Date and time: 12 July 2018, 10.00-18.00
Come visit us!
If you would like to attend to an Open Day, please contact the official representative in Moscow – Open World Education Group by phone: +7 (495) 228-03-00.