Official Name:
Commonwealth of Australia
Population:
22,5 million people
Capital:
Canberra
State language:
English
Form of Government:
Constitutional Monarchy
Administrative division:
Australia has 6 states and 2 major mainland territories
International phone code:
61
Time difference with Moscow:
+6-8 hours
Monetary unit:
Australian Dollar (AUD)
Rate:
1 AUD = 54.69 RUR
EDUCATIONAL INSTITUTIONS
Year-Round Language Courses

Secondary Education and Pre-University Preparation

Undergraduate Courses

Postgraduate Courses and MBA

Professional Training and Internships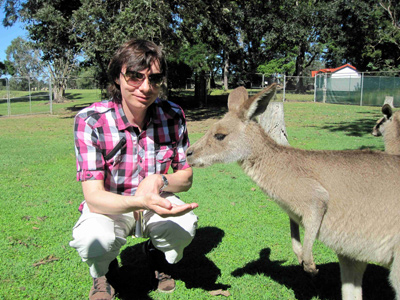 INFORMATION ABOUT AUSTRALIA AND ITS EDUCATION SYSTEM
Basic Information about Australia.
Australia is a country in the Southern Hemisphere comprising the mainland of the Australian continent, the island of Tasmania and numerous smaller islands in the Indian and Pacific Oceans. The sixth area country in the world, the only state which occupies an entire continent. Neighboring countries include Indonesia, East Timor and Papua New Guinea to the north, the Solomon Islands, Vanuatu and New Caledonia to the northeast and New Zealand to the southeast. Australia's population is 22,5 million people. The predominant language is English. The capital of Australia is Canberra. Australia is a constitunational monarchy. The head of the country is the Queen of Great Britain, but the executive powers vested in her by the Constitution are normally exercised by her viceroys in Australia (the Governor-General at the federal level and by the Governors at the state level), who by convention act on the advice of her Ministers.  Australia has six states—New South Wales, Queensland, South Australia, Tasmania, Victoria, and Western Australia—and two major mainland territories—the Northern Territory and the Australian Capital Territory (ACT).
Higher Education in Australia.
There are 37 state and 2 private universities in Australia. The higher education system is based on the British model. After 3 years of studying at the university or college (for engineering, and medicine - after 4 years and over) students assigned to a bachelor's degree. After graduating from undergraduate students can continue their studies for an additional year to obtain the Bachelor Honours Degree, which gives the right to enter directly into the second year of the Judiciary.
Also after graduating from undergraduate students can apply for 2 years Master Degree program, and then for 3 years Doctorate program, preparing the researchers with more academic focus.  Academic year in Australia begins in late February and ends in early November, but most programs you can enter 2 times a year: in February and July.
In higher education institutions in Australia, students can receive not only academic but also professional education, more action-oriented and getting applied profession.
Professional education is usually offered in such practice-oriented majors like computer science, business and economics, marketing, Tourism and Hospitality. Australia has adopted the following gradation levels of professional education:
4-6 months of studying - Certificate I (advanced user);
6-8 months of studying - Certificate II (Advanced);
About 12 months - Certificate III (manager on trade, service technician);
12-18 months - Certificate IV (monitoring the performance of work);
18-24 months - Diploma (basic higher professional education, which makes it possible to get a job);
24-36 months - Advanced Diploma (complete higher professional education, allowing to hold the position of junior management staff).
After getting Bachelor Degree student can either apply for Master Degree or choose professional education and enroll in the programs:
Graduate Certificate - 6 months duration, the main objective - development of skills based on the basic knowledge gained in an undergraduate program;
Graduate Diploma - 6 months duration, the main objective - or the development achieved by the Bachelor of skills, or obtaining additional specialty practice areas.
Feature of Australian education is its jagged and the opportunity to be counted has received education at the expense of further training. So, after studying for 6 months on the program Graduate Certificate if you wish, you can continue studying for another 6 months to get the Graduate Diploma. After Graduate Diploma, you can either get a job, or have the second course of graduate (Master).
Qualifications:
First degree - is an in-depth study of one or more subjects or areas of learning. It lasts from 3 to 4 years (depending on the chosen specialty), leading to a First Degree or Bachelor Degree in art, science or other subjects (theology, law, business).
Second Degree (Diploma of Higher Education) is a continuation of the first and represents a more in-depth study of a specific subject or its part. Training lasts 9-12 months, and after graduation, students get postgraduate certificates and diplomas.
Third Degree - a post-graduate study. After one to two years post-graduate student gets Master Degree, but after 3-4 years student gets Ph.D. Doctorate of Philosophy.
Many universities in Australia offering a long-term program of English for Academic Purposes and English language courses in Australia - ELICOS.
OTHER COUNTRIES