Official Name:
Hellenic Republic
Population:
10,7 million people
Capital:
Athens
State language:
Greek
Form of Government:
Unitary State
Administrative division:
Greece consists of 13 peripheries
International phone code:
30
Time difference with Moscow:
-2 hours
Monetary unit:
Euro (EUR)
Rate:
1 EUR = 97.91 RUR
EDUCATIONAL INSTITUTIONS
Undergraduate Courses

Postgraduate Courses and MBA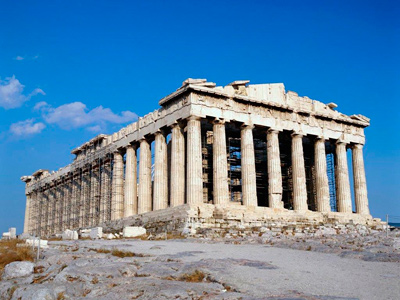 INFORMATION ABOUT GREECE AND ITS EDUCATION SYSTEM
Basic information about Greece.
Greece is situated on the southern tip of the Balkan Peninsula in south-eastern Europe. Its territory also includes several hundred islands in the Ionian and Aegean Seas. Around 20% of the total land area is comprised of islands, the largest of which are Corfu, Crete, Euboea, Kefallonia, Khios, Lesbos, Limnos, Naxos, Rhodes and Samos. Mountains and hills dominate the landscape and account for nearly 80% of the total land area. The capital of the country is Athens. Greece has a population of 10.7 million. The principal ethnic majority are Greeks who account for 96% of the population. The official language is Greek with 98% of the population speaking it, although English and French are also widely understood.
Higher education in Greece.
Greece has 18 university institutions (AEI) and 14 institutions of technological education (TEI). Like universities, Technological Educational Institutions (TEI) form part of the higher education system, but they do not belong to the university sector. There are also Military Academies.
University level first stage: Proptychiakes Spoudes (undergraduate level studies)
Undergraduate degree programmes at universities normally last four years (eight semesters) and lead to a Ptychio in the relevant field.
University level second stage: Metaptychiakon Spoudes (postgraduate studies)
The first level of postgraduate studies lasts a minimum of four semesters and leads to a Metaptychiako Diploma Exidikefsis (Postgraduate Diploma of Specialization). This study programme may be taken and completed in a university or research institute outside Greece. The degree, however, is awarded in Greece.
University level third stage: Didaktorikes Metaptychiakes Spoudes (doctoral studies)
The Doctoral degree (Didaktoriko) is conferred after public defence of a thesis. The research must be original and show advances in research and science. A doctoral thesis requires at least three years' study from the time of enrolment in the doctoral study course.
OTHER COUNTRIES