Official Name:
The Republic of Singapore
Population:
4.8 million people
Capital:
Singapore
State language:
English, Chinese, Malay, Tamil
Form of Government:
Parliamentary Republic with a dominant party
Administrative division:
Administratively country is divided into 5 districts
International phone code:
65
Time difference with Moscow:
+8 hours
Monetary unit:
Singapore Dollar (SGD)
Rate:
EDUCATIONAL INSTITUTIONS
Year-Round Language Courses

Summer and Vacation Programs

Secondary Education and Pre-University Preparation

Undergraduate Courses

Postgraduate Courses and MBA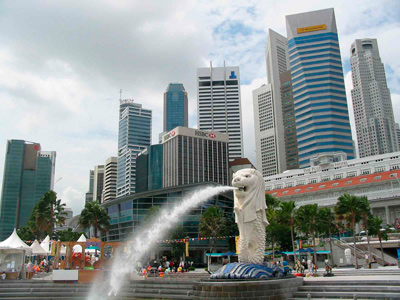 INFORMATION ABOUT Singapore AND ITS EDUCATION SYSTEM
Basic information about Singapore.
The Republic of Singapore - the city-state located on an island in Southeast Asia, separated from the southern tip of the Malay Peninsula by Johore Strait. Population – 4,8 mln people. It shares borders with the Sultanate of Johor, which is part of Malaysia and the Riau Islands as part of Indonesia. The name comes from the May Singapore Singh (lion), borrowed from the Sanskrit and Sanskrit Riga (city). In 2010, Singapore hosted the first Youth Olympic Games. The territory includes the main island of Singapore and 58 smaller islands that lie along its coastline.
Higher education in Singapore.
Higher education in Singapore is represented by three universities: National University of Singapore (NUS), Nanyang Technological University (NTU), Singapore Management University (SMU).
In addition to universities, higher education is also available in the polytechnics of Singapore. As a rule, they are different from universities that do not engage in research projects and have no graduate school. "Polytechnics" specialize mostly in engineering, information technology and applied sciences.
For admission to universities of Singapore Russian applicants must submit a certificate of secondary education, certificate of completion of 1st year of high school and the results of the Test of English - IELTS or TOEFL. On admission to the National University of Singapore will need to be tested.
Courses in Singapore:
Bachelor's degree. Term of training is 3 - 4 years. After successful completion of this phase of the graduates receive a complete higher education bachelor degree.
Master's degree. Duration of training is 1-3 years. After successful completion of this phase of the graduates receive a complete higher education master degree.
Doctorate. Duration of study is 2-5 years.
Entry Requirements:
For Bachelors:
1. English proficiency Level IELTS - 6.0, TOEFL - 550 (or 213 for CBT)
2. Testing SAT 1 and SAT 2 (for admission to National University of Singapore). The test results will be considered candidate for admission to college.
On SAT 1: At least 600 points in reading, spelling, and 650 in math.
Requirements for the SAT 2 in each university are different.
OTHER COUNTRIES