Official Name:
Republic of Ireland
Population:
4,1 million people
Capital:
Dublin
State language:
Irish, English
Form of Government:
Republic
Administrative division:
Ireland has 27counties
International phone code:
353
Time difference with Moscow:
-3 hours
Monetary unit:
Euro (EUR)
Rate:
1 EUR = 99.13 RUR
EDUCATIONAL INSTITUTIONS
Year-Round Language Courses

Summer and Vacation Programs

Undergraduate Courses

Postgraduate Courses and MBA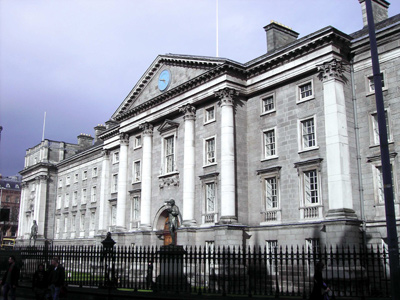 INFORMATION ABOUT IRELAND AND ITS EDUCATION SYSTEM
Basic information about Ireland.
Ireland (Eire in the Irish language) is situated in the extreme north-west of Europe between the Atlantic Ocean and the Irish Sea. The island of Ireland has a large central lowland with a relief of hills and several coastal mountains and consists of 32 counties, the six of which to the north-east make up Northern Ireland, part of the United Kingdom. The capital of Ireland is Dublin, and St. Patrick's Day, 17 March, is the National Holiday. Ireland has a population of approximately 4.1 million and two official languages, Irish and English. The language of instruction in schools is English. Ireland is a two-house parliamentary democracy with an elected President as Head of State.
Higher education in Ireland.
The higher education system in Ireland is broad in scope and encompasses the university sector, the technology sector, education colleges and private, independent colleges. The institutions falling within the first three groupings are autonomous and self governing, but substantially state-funded. Admission to higher education for Irish students is competitive and based upon performance in the final secondary school examination, the Leaving Certificate. Admission requirements for overseas students are determined individually by each institution and are generally based on performance in national examinations and English language aptitude. The following academic awards can be acquired at Irish higher education institutions:
• Higher Certificate: two-year, full-time course;
• Ordinary Bachelors Degree: three-year, full-time course;
• Honours Bachelors Degree: normally a three- or four-year course;
• Graduate Diploma: designed for graduates seeking vocational reorientation – usually a
one-year course;
• Masters Degree: either by research or through a programme of teaching. Normally one or
two years in duration;
• Doctorate (PhD): usually takes a minimum of three years of original research.
The academic year typically runs from September to June and is divided into either two or three semesters with holidays in December (Christmas) and April (Easter). Most universities run according to a semester system and modularisation has been introduced at most colleges to allow greater flexibility for students. Teaching at undergraduate level generally involves a programme of lectures supplemented by tutorials, practical demonstrations and laboratory work (where relevant).
OTHER COUNTRIES